Our guides
Intelligent, knowledgeable, fun and supremely organized, our guides oversee every detail of your itinerary. They are passionate about their home country and history, come from different walks of life. Educated mainly in arts and humanities and trained by our senior guides, they are the perfect ambassadors of local life and great story-tellers. Meet a few of Your Travel Diary guides and experts.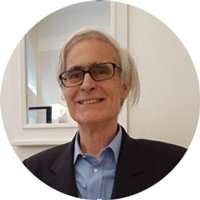 Adriano, graduates in literature, licensed tour guide after a career as teacher. In both activities I have given much space to images and monuments as an expression of a historical situation, a culture or a spirituality. I have published a book on the farmhouses and I am preparing another on the iconographic approach to the western artistic tradition. As a guide I focused on Milan which is my hometown. My second language is Portuguese.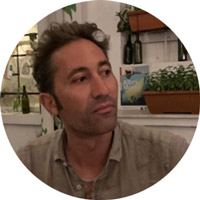 Andrea, born and grew up in Milan. I have always played an active role in cultural events throughout the city and Lombardy Region as a whole. My great passions include art, architecture, and sport. In addition to Italian, I speak both English and Spanish. I can't wait to share with you the historical places that have shaped my life: from the Milan's Duomo Cathedral to the Sforzesco Castle and the shores of Lake Como to its beautiful villas, so that you may savor in every sense the beauty and flavors of this incredible land.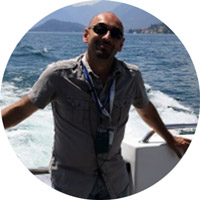 Andrea, 44 years old. Lake Como is my home land and my first love. Come to enjoy a tour with me...you will be amazed!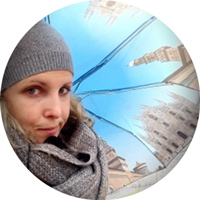 Hi, I'm Elisa. I have been working in tourism industry for 15 years, as an employee, operation manager and freelance tour guide, getting a 360° experience. I am a very personable and flexible person, being so curious and travel addicted. I consider myself knowledgeable and insightful, friendly and down to earth. I always take one more step than I think I could, looking for a way to move outside my comfort zone so that I can test new approaches. I prefer new challenges instead of repeated and routine activities. As I am used to take risks and try new experiences I am able to support others doing the same, given a good amount of complicity and empathy. I love outdoors activities, all that is natural and pristine, walking and cycling. I like talking to people, listen to stories, writing poems.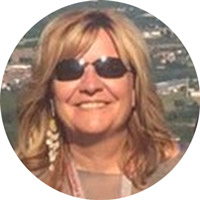 Ileana, Bundi! Whether you are Italian or coming from abroad, this is the way I welcome everybody! It means Buongiorno or ciao in the dialect of Piemonte, the region of Italy where I live and where I was born (do not ask me when..ah..ah..) and where I work as a professional and licesed tour guide. Being a tour guide is more than a job to me: it is my love, my passion, my joy. After the university where I graduated in Political Science and during which I study at the International Labour Organization of UN as well, I started preparing to be a guide. Two difficult and stimulating years of studying...though stuff... Since then I never stopped to study and I never stopped to learn from all of my guests!! Once a an american lady told me "...you never get tired of beauty" and she was absolutely right. I am waiting for you to share tasting, drinking, discovering. I want to be stunned with you of this corner of Italy adding some words of local dialect that I speak fluently!! Piedmont is really a surprise, one of the greatest wine producer, a very uncommon food, genuine touristy places with lots of Unesco Heritage. Alura v'aspetu (I will wait for you) Arvedze 'n gamba (Take care!)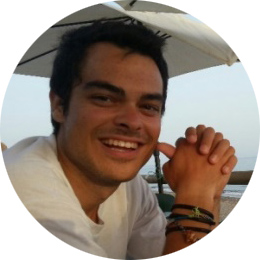 Hi, my name is Julio, I am a professor of History and Geography in high school in Málaga (Spain) and although I do not live in Italy, in my free time I like to discover "hidden" places in the north of Italy (my fiancée has her family in Milan). Thanks to the public transport system for those like me who love to use the bicycle, these connections allow visitors to move easily in the Lombardy area without taking the car. During sunny days, I like to discover the nature that surrounds the urban area and all the villages riding my bicycle through the countryside, getting in touch with the locals, nature and country life.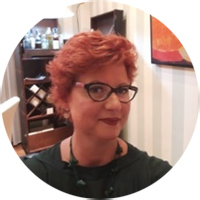 Lara, licensed tour guide in Milan and its district, Italian, English and French speaking. I've always been passionate for history and art, the itineraries I offer are also rich in anecdotes to make the tour knowledgeable, interesting and amusing. The historical age I love is Renaissance, especially the Italian one bound to the various dynasties: thanks to them it was possible to create fabulous masterpieces that became world-wide famous, in which their memory still remains.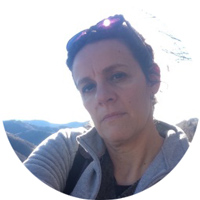 My name is Laura, I live and work in Milan. I have been a tour guide for many years and I am in love with my city and my job. I like to find myself in the amazement and wonder that I read in the eyes of those who arrive here for the first time and are excited to see the wonderful places where I am lucky enough to walk every day. Sometimes tourists are in a hurry, and so I like to capture their attention on the details that escape those who walk with a distracted look. I wait for you in Milan!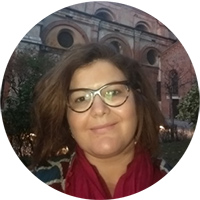 Liliana, a real Milanese, language teacher and licensed tourist guide since 2006. I love to surprise myself every day as a tourist of my city and I like to make unusual routes for Italians and foreigner people traveling to Italy. I love traveling as it makes me feel good, enriches me and satisfies my constant thirst for artistic and cultural curiosity.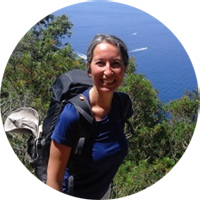 Linda is a licensed tour leader and Professional tour guide. She studied Art and History in Siena, falling in love with the Byzantine golden Madonnas. She has traveled and lived abroad and in several Italian regions. Loves the world, Mozart and chickpea porridge. She lives between Milan and Liguria, where she cultivates a vegetable garden and her soul.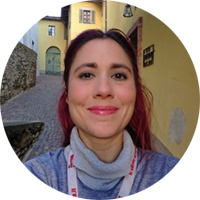 Natalia was born in Athens by Greek mother and Polish father. I moved to Italy since I was a child but mantaining ties with my origins. I speak fluently Italian, English, Greek and Polish. I lived in Milan, grew up in Ivrea, a small ancient city close to Turin on the way to the Alp mountains. I live now in Turin, where I graduated as an architect at the Polytechnic School. Being a professional guide I would feel privileged to introduce you the beauty of Northern Italy: whether you choose to visit TURIN or MILAN, I can manage specially tailored guided tours and visits for your needs of the cities, its museums and surrounding.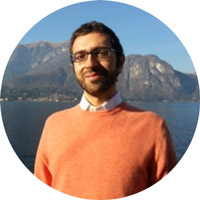 Renzo is a licensed English speaking tour leader with 15 years of experience on tour guiding, in Italy and abroad. I live in Milan, but my heart and my soul remain in Como, my birthplace. I love "my" lake and will be a pleasure to accompany you to discover both the classical and the hidden Lake Como's treasures: beautiful villas and gardens, relaxing cruises and traditional villages and old paths through wonderful landscapes; and if you are interested in gastronomy, winery and traditional tastes just tell me! I will lead you to discover the secrets of Como Lake's extra vergine olive oil and of traditional fishing: you will have the opportunity to discover how these products are made and then to taste them in their best interpretation.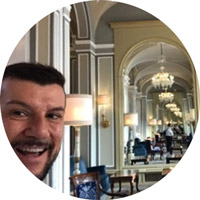 Roberto, as Expert of History and History of art I am proud to claim that Italy starting from 1400 is the cradle of Renaissance. Renaissance was the highlight for centuries all Europeans countries, French, English tried without success to copy our beauties. At that time Italy was divided in different Kingdoms, Counties and so on. All Kings Dukes, Lords, once they received important foreigner enjoyed to impress them not only in terms of monuments, Palaces, gardens, paintings and sculptures also in terms of food and wine. With my personal experience you will discover secret Milan city district and at the end of tour we will stop in a typical place/ trattoria where we will have wine and food tasting.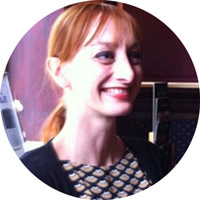 Hello! My name is Sara. I've been living in Verona for over twenty years and in this wonderful city I work as tourist guide. After graduating from high-school in classical studies, I gained a bachelor's degree in Oriental Languages and Literatures (hindu) at Ca'Foscari University in Venice, but then circumstances of life brought me to Mexico, where I lived for a few years and started working in the world of tourism. Once back in Italy, I settled in Verona and I let myself be inspired by my passions and the beauties of the city and its surroundings. I therefore decided to set the exams in order to obtain the qualification to the profession of tourist guide. Working as a tour guide means to talk about art, history and folk traditions; to describe monuments, artworks, landscapes, food, wine and typical products; to get in touch with people of different language, culture and origins and make them fall in love with places they visit: a real pleasure for me! I wait for you!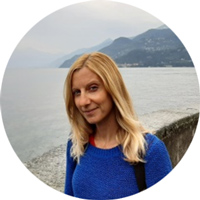 Serena works as tour guide since 2013 in this period I have gained a lot of experience to work with people. The most of the tours I offer take place in the Cinque Terre coastline , in the Gulf of La Spezia also known as The Gulf of the Poet and in the medieval town of Sarzana. During my tours people have the possibility to know the history and the traditions of the places but at the same time they can taste the typical specialties of the area such as wine, seafood and focaccia. It is also possible to enjoy the breathtaking views that the area offers through the many trails, only with the right equipment of course! There are many ways to spend a nice day in the Cinque Terre coastline exploring the area by train, boat or on foot. In any case the tour can be changed at any moment according to the customer requests. Moreover the tours can be held in English, German or in Italian.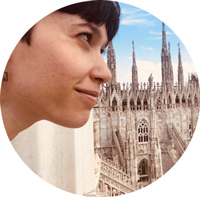 Susanna is an art historian specialized in art education. She worked for a long time with contemporary art, presiding over IPac - Association of Artistic and Cultural Promotion. She completed her studies in Rome where she worked as educational guide in several Roman cultural sites such as the Coliseum, the National Gallery, the Scuderie del Quirinale Museum and Palazzo delle Esposizioni Museum. Tour guide since 2016 and she works in Italian, English and Spanish. She has recently come back in Lombardy, her birthplace and she is totally in love with her work. She tries to enhance both well-known destinations and off-road sites, with the aim to promote the extraordinary Italian cultural heritage. She is a "buona forchetta"(she loves food, the Italian one above all) and she will be glad to lead you discovering the hidden sides of Italian culture and history.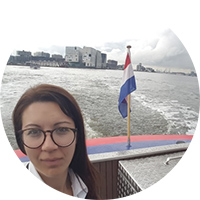 Hi, I'm Valeria! I have been working as incoming and outgoing tour leader since 2013. My languages of expertise are English, Romanian and obviously Italian! I love travelling, but not only. I love showing to my clients the beauty of a country and I desire they come back home safe, happy and with more knowledge.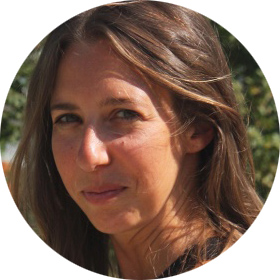 Hi, I'm Veronica! I studied history of art in Milan and while attending university I felt in love with the city. Today I work as a guide and try to share this passion with everybody. My favorite thing is to get lost in the city to discover new details, always as the first time.